Dear Alumni, You are invited to an evening conference featuring INSEAD's Mark Stabile. The evening conference will take place in Zurich and is open to INSEAD alumni and guests.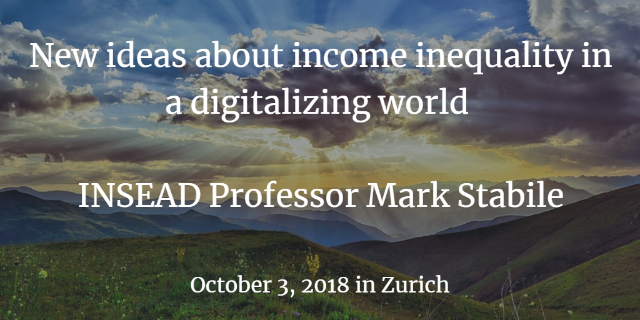 INSEAD Professor Mark Stabile: New ideas about income inequality in a digitalizing world, Zurich October 3, 2018
The global top 1% is getting wealthier faster while the global bottom 50% is stagnating. Healthcare costs are growing quickly, putting an increasing burden on people and countries. Automation is affecting jobs and skills. These economic and technological trends have the potential to negatively affect business, politics, and society. One of the people speaking about solutions is INSEAD professor Mark Stabile. He will analyze these trends, comment on their destabilizing impact and explore some of the solutions that are being discussed by governments, business and civil society.
Of all the issues facing the world today, wealth inequality ranks as one of the most critical, according to Jim Stone, an economics scholar and the founder and CEO of the Plymouth Rock Group of Companies. "It has enormous consequences for the future of mankind," he says. Identifying those consequences is one of the core goals of The James M. and Cathleen D. Stone Centre for the Study of Wealth Inequality, a new centre established at INSEAD through a $2.5 million gift from Jim and his wife, Cathleen. The centre, directed by Prof. Mark Stabile, aims to become the leading venue for the research and teaching of wealth inequality issues, and complements other research funded by the Stones at public policy schools, such as the Harvard Kennedy School.
| | |
| --- | --- |
| | Mark Stabile Professor of Economics, INSEAD Mark Stabile is the Stone Chaired Professor in Wealth Inequality and a Professor of Economics at INSEAD. He directs the James M. and Cathleen D. Stone Centre for the Study of Wealth Inequality. From 2007 to 2015, Professor Stabile was the founding Director of the School of Public Policy and Governance at the University of Toronto and Professor of Economics and Public Policy at the Rotman School of Management, University of Toronto. He is a Policy Fellow at the Martin Prosperity Institute. From 2003 to 2005, he was the Senior Policy Advisor to the Ontario Minister of Finance where he worked on tax, health, and education policy. His recent work focuses on inequality, poverty, child health, health care financing, and tax policy. He advised Governments of the United States, Canada, and Ontario, among others, on health care reform and programmes to reduce child poverty. He serves as an associate editor of the Journal of Health Economics and the Journal of Health Economics, Policy, and Law. Professor Stabile has a PhD from Columbia University and a BA from the University of Toronto. |
Key Facts
When: Wednesday October 3, 2018 18:30 Where: Haus Zum Rüden, Limmatquai 54, 8001 Zurich Tickets: CHF 60 for Swiss NAA Members / CHF 90 for Alumni non-NAA Members & Guests Registration: On XING Events https://de.xing-events.com/MARKSTABILE
Program 18:30 Welcome and Reception 19:00 Talk and Q&A Session 20:00 Apéro Riche INSEAD Alumni Association Switzerland  Richard Bissonnet, MBA'81, Event Organizer Outi Raty, MBA'02J, Event Organizer Reto Gygax, MBA'13D, Zurich Chapter President [email protected]