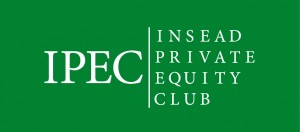 The INSEAD Private Equity Network ("IPEN") and the INSEAD Private Equity Club ("IPEC") are pleased to announce that they have agreed to form a common brand and jointly use the following new logo going forward. The decision has been approved by the IPEN Executive Committee and the current IPEC leadership.
The new logo was crafted with the input of both leadership teams, and it is expected to refresh the branding of the clubs by providing them with a logo in line with industry standards. The alumni club and the student club anticipate that the common branding will bring about the consolidation of their online presence and will hopefully lead to of further integration across common efforts.
The logo was developed with the help of Maite Sabio, a designer based in Mexico City. Maite has experience designing the branding of financial services, consumer / retail, industrial companies globally. Some of her work can be seen here.
Both the alumni club and the student club expect great things from their continued collaboration. They recently jointly delivered the 5th Asian Private Equity Conference in Singapore on November 1st, 2013. This marquee annual event has historically attracted approximately 100 alumni and 100 students in a collegial, closed-door forum. Former keynote speakers include Stephen Schwarzman of The Blackstone Group, Howard Marks of Oaktree, Conni Jonsson of EQT, Joe Schull of Warburg Pincus, Francesco Loredan of BC Partners (MBA'85J), Guy Hands of Terra Firma, Nicholas Bloy of Navis Capital, and Volkert Doeksen of AlpInvest.
Should you have any questions, please feel free to contact the IPEN Executive Committee, and or the current IPEC student leadership. To become an IPEC member and receive on-going communications, please register here and on Collaborne.