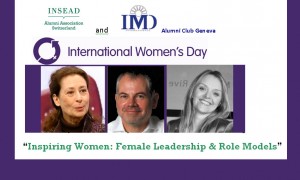 We all know we can learn a lot from history and Paul Vanderbroeck proves it again in the context of gender diversity in his new book entitled,
Leadership Strategies for Women
, studying the lives and distinctive leadership style of four female monarchs.
Meet the author at the upcoming alumni event : "Inspiring Women: Female Leadership & Role Models" . He is just one of three inspiring panelists confirmed for an Evening Conference and Networking Cocktail event in Geneva on March 4th, celebrating International Women's Day with the distinctive INSEAD Alum-style. Read some of the endorsements of Pauls new book below.
Endorsements of Leadership Strategies for Women (Springer Verlag 2014)
"A wonderful selection of much-needed role models of powerful women who shaped their

time with distinctively authentic styles, all their own. An inspiration for both men and women

of what more gender balance in global political and economic roles has to offer the world."
Avivah Wittenberg-Cox, CEO 20-first and best-selling author of Why Women MeanBusiness and How Women Mean Business
"We all know we can learn a lot from history. Leadership Strategies for Women does this in

the unexpected context of gender diversity. Nicely written and original, the book is a powerful example of how looking back can help us moving forward."
Frank Uit de Weerd, Vice-President HR Innovation, Research & Development, Royal Dutch/Shell
"An inspiring narrative that creatively leverages lessons from four women from the past, each of whom had to play the cards she was dealt, and each a force of nature who prevailed against the odds and shaped her world. Today's crop of aspiring women leaders, who often start from scratch and face a bewildering array of options and tough performance

expectations, would do well to absorb this book's tightly drawn lessons."
Ingo Walter, Seymour Milstein Professor of Finance, Corporate Governance and Ethics, NYU Stern School of Busines