Having an INSEAD MBA is a boon when raising venture capital, according to the latest data from PitchBook, a private equity industry information provider. [pullquote align="left|center|right" textalign="left|center|right" width="30%"]Bill Gates, Steve Jobs and Mark Zuckerberg famously do not have college diplomas, but don't be fooled, the data shows it's an advantage, according to Pitchbook. [/pullquote]
Since 2009, ninety-nine INSEAD Alumni working at 92 VC-backed companies have raised USD 1.2 billion in capital. The score puts INSEAD in the top ten universities world-wide for forging entrepreneurs. It holds seventh place globally in the MBA ranking and it is number one outside of the US. The graphic above from INSEAD shows how INSEAD's stats compare to other top schools.
It is also in the top ten for producing female leaders of VC-backed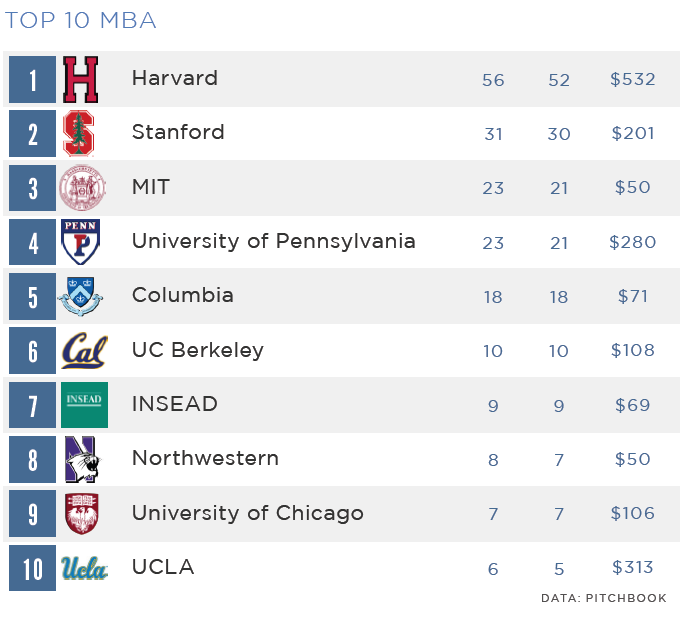 companies with nine entrepreneurs at nine startups (see graphic right). Some of the companies INSEADers lead have raised significant rounds of VC, including Comércio Digital BF, Houzz, Comuto, Belltown Power, and Apttus.
The Pitchbook ranking is based on VC-backed companies that received funding from Jan. 1, 2009 through August 21, 2014,
Pitchbook has a database profiling 16,000 startup companies that  include the background info about industry players. It claims that using it to connect with fellow alumni at other VC-backed companies has led to collaborations. The report can be downloaded here.