Normal
0
false
false
false
DE-CH
X-NONE
X-NONE
/* Style Definitions */
table.MsoNormalTable
{mso-style-name:"Table Normal";
mso-tstyle-rowband-size:0;
mso-tstyle-colband-size:0;
mso-style-noshow:yes;
mso-style-priority:99;
mso-style-parent:"";
mso-padding-alt:0cm 5.4pt 0cm 5.4pt;
mso-para-margin-top:0cm;
mso-para-margin-right:0cm;
mso-para-margin-bottom:10.0pt;
mso-para-margin-left:0cm;
line-height:115%;
mso-pagination:widow-orphan;
font-size:11.0pt;
font-family:"Arial","sans-serif";
mso-ascii-font-family:Arial;
mso-ascii-theme-font:minor-latin;
mso-hansi-font-family:Arial;
mso-hansi-theme-font:minor-latin;
mso-bidi-font-family:"Times New Roman";
mso-bidi-theme-font:minor-bidi;
mso-ansi-language:DE-CH;
mso-fareast-language:EN-US;}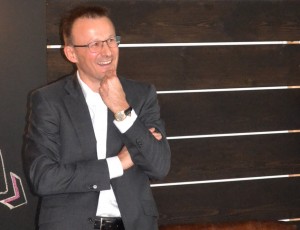 A long-time Zurich resident, Alexander Wyss, MBA '01D, practices business law and is a Partner at Baker & McKenzie. Serving as Zurich Chapter President for almost six years, he's been active in the INSEAD Alumni community since 2002.  He's shared with us his favourite places for dining, wine and freshly-roasted coffee, along with insights about the entrepreneurial vibe in the city, and memorable Alumni events.
This article is the second in a series entitled City INSIDER Views produced by the INSEAD Alumni Association of Switzerland.
Swiss Alumni Events
One of the most memorable was the 2010 Annual General Meeting where we sat next to Van Gogh and Picasso. It was held at the Buehrle Collection museum. My seat was beneath a Monet, if I recall correctly. 
Two other recent business events equally impressed and inspired: a visit to Google's steel and glass R&D center on the banks of the Sihl, and a talk by Monisha Kaltenborn, a trained lawyer, mother of two, CEO and part owner of Sauber. She's the first female top manager in Formula 1 racing. It was not necessarily her presentation that struck me, but the Q&A afterwards [a regular feature of Swiss Alumni Association business events] where she was open, inspiring, articulate and candid about her experience and her business.
 The Startup
  V

ibe in Zurich

Together with the Arc Leman, Zurich is the most important centre for entrepreneurship. The >>venture >> competition, which started in 1998, is a spectacular success, boosting entrepreneurship [and attracting dozens of high-profile industrial, academic and financial partners].  I speak at the toolkit event focusing on legal tips and ideas, and am on the board of several startups. It's not something that one could earn a living at, but it is fascinating to see what these young and very bright people are doing. [pullquote align="left|center|right" textalign="left|center|right" width="30%"]Being active in the Association is all about the people. Overall, it's enriching [/pullquote]
On the INSEAD Experience
I met a Brit who was a fantastic cook and a native of France who spoke English perfectly. All my prejudices were proven wrong. Most importantly, I made lifelong and close friendships.
Why Be an Alumni Association Volunteer
The Alumni community is very appreciative and thankful towards volunteers and that makes it satisfying, not to mention the fact that it keeps you young! Being active in the Association is all about the people. Overall, it's enriching to interact with graduates, new and older, to share experience and exchange inspiring business insights.
Best place for coffee
Münstergasse 17, 8001 Zürich
A tradition-rich coffee roaster serves up the best of its imports in the Old Town.
Best place for vegetarian food
Seefeldstrasse 2, 8001 Zürich
One of the best places for vegetarian food since 2000, it is part of the Hiltl House, a family business.
Best restaurant with attention to wine
Bleicherweg 1A on Paradeplatz, 8001 Zurich
Located in a place you wouldn't expect. A set menu offers culinary surprises each day. Don't miss selecting your own wine in the extensive CoCo cellar.
Kanzleistrasse 126, 8004 Zurich
A classic, and the wine cellar is simply spectacular!
Sihlporte 3, 8001 Zurich
Great atmosphere, in particular the after-work drinks, and great Italian wines at reasonable prices. It is co-owned by our friend and fellow alumnus Fabrice d'Erm, YMP '04. I can warmly recommend it.
27 January 2015 Byline: INSEAD Alumni Association Switzerland