The INSEAD Alumni Association Switzerland hosted the second annual "Salon Conversations 2015" event at the historic Zunfthaus zur Saffran in October.  Salon Conversations are intimate events that introduce alums to colleagues with a range of expertise, from emerging markets to traditional Swiss industries over a gourmet dinner.
The Salon events are a chance to meet alumni from leading businesses and entrepreneurs who do interesting things like trading antique violins or running niche-market auction houses or creating a new running shoe brand. Guests are seated six or seven to a table, each with a "table host" ready to share on a topic close to their heart. – with no PowerPoint slides, no microphones and no fixed agenda.
Salon Conversations 2015
The only guest at this year's Salon Conversations to wear running shoes, was David Allemann (pictured here). He is one of co-founders of the hot new Swiss sports brand ON.  Many INSEADers know the story of Phil Knight who did his MBA at Stanford in the 1960s. A middle distance runner, Knight wondered whether a well-engineered US sports shoe could compete with Adidas and Puma, which led him to found Nike.  "David Allemann is an INSEAD graduate whose company aims to put a Swiss sport shoe brand on the global map," said Chandra Leo when he introduced David Allemann. His topic for the night was "How to take your idea and run with it".
Giulio de Lucia is the co-founder and CEO of Fides, a private equity firm specialized in small and medium-sized businesses. Before founding Fides, he gained experience at ABB, BCG, KPMG and OC Oerlikon. At Fides, he is dealing with a range of different portfolio companies, including Antiquorum, the world's leading auction house for expensive watches, some of which have sold for over CHF 6 million a piece. Giulio de Lucia's topic for the night, which was "The art of turnaround investments".
For the past 15 years Andreas Amrein (picture above) has been doing business in Asia. Living in Singapore, Indonesia and China, he developed business for Novartis and Abbott. He has a degree in physics from ETH Zurich but spent his career in in the healthcare industry after a short stint at UBS. "Today, Andrea Amrein is the president and only non-Indian on the leadership team of Accutest, a contract research organization headquartered in Mumbai," said Chandra Leo. His Salon topic was "Doing (healthcare) business in Asia".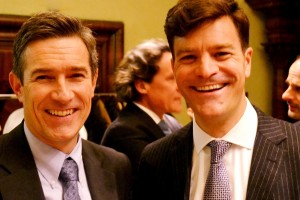 This was my second Salon. Sitting at a table with people you have not before who have interesting business experiences is inspiring. Conversations develop in unexpected ways. – Jann Hatz, MBA 96D (pictured  on the left) was attending INSEAD Salon Conversations for the second time.
Costa Vayenas started focusing on emerging markets (EM) back in the 1990s and has headed EM research at UBS Investment Bank in London and New York, and more recently at UBS Wealth Management in Zurich. In this role, he provided research coverage and investment recommendations across all key emerging markets and asset classes. His topic was "Emerging markets – What's next?"
Urs Widmer's  topic was "National stock exchanges in a global world". He draws on a broad experience across the financial sector, starting at McKinsey and then working for UBS and Axa Winterthur before joining the top management of Europe's leading independent stock exchange. Since he joind the Six Swiss Exchange in 2012, he is respsonsible for business & market development at time when traditional processes are being challenged and promising new technologies are being introduced.